Our Solutions for Household and Domestic appliances
A wide range of Dolph's® products are used in household appliances. All these materials contribute to the performance and reliability of household equipment. They offer manufacturers best-in-class materials with outstanding properties that combine electrical insulation and mechanical, fire and high-temperature resistance.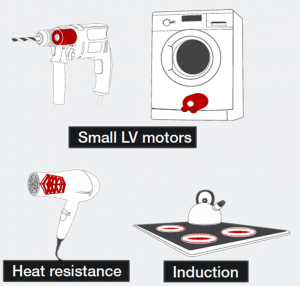 Dolph's® offers a wide variety of products to manufacturers of household appliances. We divide these appliances into three categories:
– Domestic apparatus with small electric motors running inside, such as washing machines, dishwashers, dryers, mixers, blenders, fridges and power tools.
– Domestic equipment that requires heat-resistant materials, such as toasters, hair dryers, heaters and similar tools.
– Induction equipment with contactless energy transfer, such as induction cooking plates, microwave ovens, electrical toothbrushes and induction charging for private parking garages.