SYNTHITE® E(a)-43
Pigmented version of AC-43, available in several colors. Protective high temperature insulating coating that dries quickly, forming a tough and flexible film giving excellent heat and chemical resistance. EN45545-2 approved for railways applications.
Key Properties
· Fast air drying insulating varnish.
· Oil and moisture resistant.
· Hard, smooth, abrasion resistant film.
· UL Recognized (file OBOR2.E317427 and OBJS2.E317429).
· EN 45545-2 approved: HL3 for R22 & R23.
Details
Chemical Base
Alkyd
Viscosity 23°C
FORD 4: 130 sec.
Application
Rotating Machines
Transformers

Color
Black Red Grey
Drying process
Ambient
---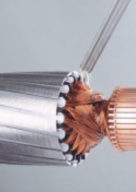 Brochure
Impregnating Resins & Varnishes
Download